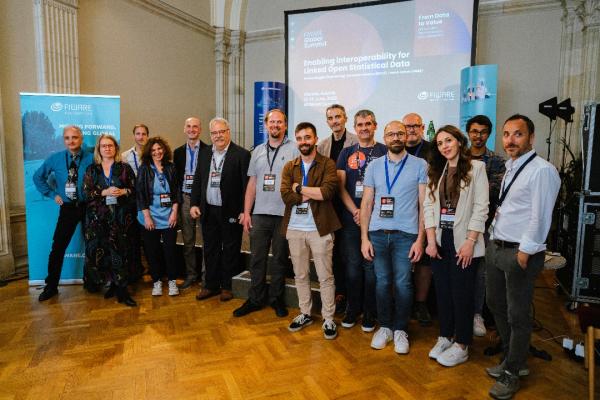 Greenmov and its sibling projects INTERSTAT and ODALA jointly organised an Open Data Cluster Closing event.

A Focus Group targeted to companies, organisations and cities with prior experience in CEF-funded projects was also put together by the three projects.
Greenmov and the INTERSTAT and ODALA projects promoted two CEF conferences in in the framework of the 9th edition of the Fiware Global Summit held in Vienna on 12-13 June: an Open Data Cluster Closing Event and a Focus Group session that were attended by a qualified audience of people from Academia, Industry and SMEs.  
As the three projects have developed services and products that can be easily adopted by public administrations -and beyond- thanks to the funding from the CEF programme, the purpose of the Closing Event was not only to present results or provide technical guidelines, but also to facilitate a moment of reflection on the lessons learned and best practices that came from years of projects' activity, to analyse future impact for these administrations, and finally to test the value of GreenMov, ODALA and INTERSTAT in solving future problems. Speaking on their behalf were their respective coordinators: Carmen Perea, Eviden, for GreenMov; Benjamin Ditel, City of Kiel, for ODALA, and Martino Maggio, Ingegneria Informatica SPA, for INTERSTAT. Pavlina Fragkou, Project Manager at the European Commission, opened the session with a short speech on Semantic challenges in open data and the role of interoperable Europe.
The presentation on GreenMov highlighted the project's ability to transform raw data into intelligent mobility services for citizens. By leveraging data analytics and advanced algorithms, GreenMov enables efficient and sustainable transportation solutions. The project showcased how it can revolutionize urban mobility and improve the quality of life for individuals, while also reducing environmental impact.
Regarding the Focus Group, it took place in the morning of 12 June and was targeted to companies, organisations and cities with previous experience in projects funded by CEF. Its aim was to gather perspectives and best practices, as well as to assess the actual performance in the projects.
FIWARE is a European Union-led platform for the development and global deployment of Future Internet applications, that aims to provide a fully open, public and free architecture and set of specifications. The FIWARE Foundation was established to sustain the platform beyond its EU funding source. With more than 2000 members and several specialised committees such as Smart Cities, Agrifood, Smart Energy, Smart Industry or Smart Water, the FIWARE community meets twice a year at the international FIWARE Global Summit. In the last edition, the Summit brought together 420+ participants, 160+ speakers, 300+ presentations, and 10+ panel discussions.